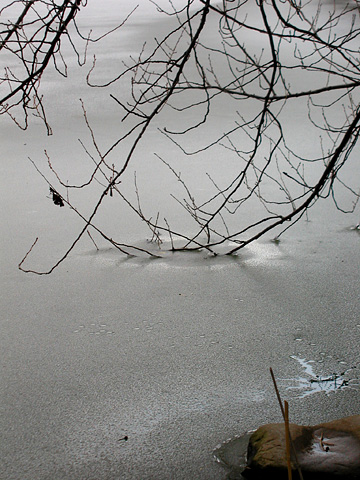 New York Winter
They may say if winter's here, spring couldn't be far behind, but in New York that's not true. Winter is still long coming even if you think you're in the worst of it. The cocooned people huddle in stores they have no need for just to be indoor, and end up carrying out shopping bags. Even hardy, un-sheltered people like these two, who normally loved the elements for their aesthetics and the sharper focus coldness induced, do not venture outside often. But they are on a late afternoon walk through a large city park, the first venturing out of the tiny apartment this day. The park is beautiful in its desolate way, brown branches against light gray snow, water frozen over, no movement save for the flinching of a few brown fuzzy tails. They talk quietly, deliberating over their words to both communicate and infuse a poetic sense into each response. It's the kind of talk that attracted them to each other in the first place, in which they can feel deep and precise and understood, the very opposite of chit-chat. But there's one less layer to the conversation now, because the question of who they are to each other is clear.
The sense of the tragic is there, they both knew it. Being who they are, both are no stranger to this feeling. Being familiar with it, both are more comfortable with this than with uncertainty, and now they can shape the experience to suit their own narratives. They talk engagedly, make characters out of passers-by, he teachs her haikus, they are having fun. Fun is fun. But sadness is also sadness. An idea of themselves as diamond-sharp intruments has often formed in her head as they talked, which is exciting to her, and he speaks of being split open. But emotional callouses proved harder than diamonds.
The late afternoon light fades quicker than one expects. The wind is cutting her cheeks now, and they make an early turn to head back. He continues to make haikus, 3 lines of 5-7-5 syllables. She has a difficult time deciphering syllables, and constantly asks him to count individual words for her. As they turn on his street, a quiet row of brownstones, she half surprises him:
Indelible marks.
Hearts broken, mended, nurtured,
a long walk in snow.
He turns, smiles from behind his glasses. She smiles back, and they duck indoors.
---
More
images
from the Brooklyn Botanical Garden
---