---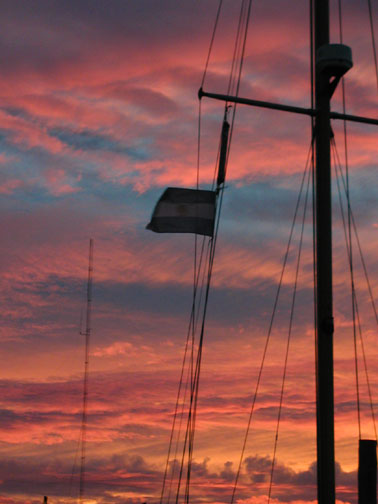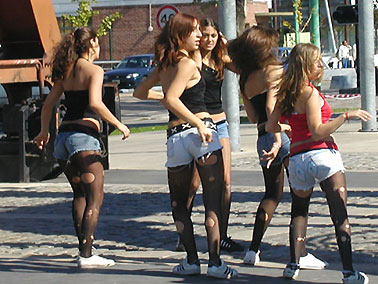 "¡Me gusta como bailas!"
» y me encanta Buenos Aires «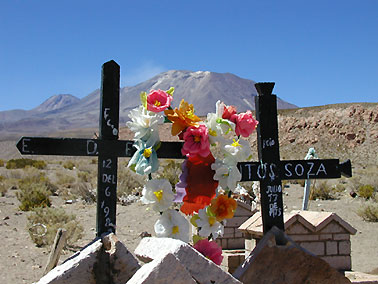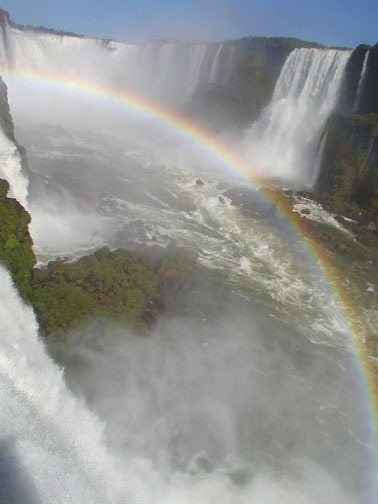 » Click here for more images of the lush and powerful Iguassu Falls «
My heart has taken a hit these couple of days, thus I've gained a special affinity for acts that are courageous or reckless. More importantly the latter, as all matters that make the heart leap necessarily are.

I was just looking at Cecelia mopping the floor, long black curls draped over her white tank top, highlights on her skin by the bright morning light, she looks beautiful. Outside is a shimmering lake surrounded by green mountains topped by a first dusting of snow. Pink Floyd or Miles Davis or Lorena McKennit plays on the stereo. A scene that's actually not so difficult to come by: there's always a beautiful woman running a lovely guest house in a beautiful location, with international culture and comforts at hand. Each one of us is lured by a scene like this and imagines we can stay
here
forever. One traveler has stayed here 29 nights. It's escapist. But hey, why not? Why not escape?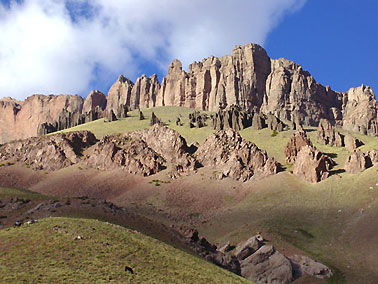 » Click here to see more images from the majestic Argentinian Andes «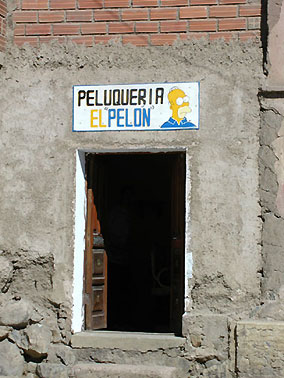 ... to use Homer Simpson as its model. Potosi, Bolivia.
» Click here to see more images from Bolivia «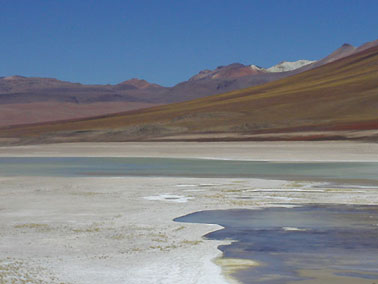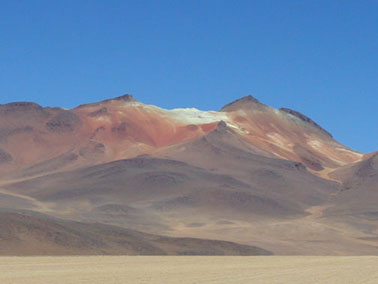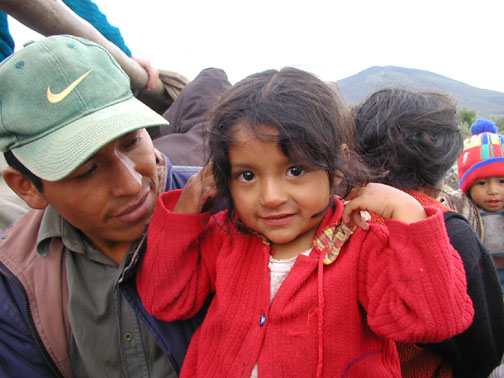 » Click here for more pictures of an Andean ramble through beautiful landscapes and diverse peoples. «
Being the non-conventional type and fresh air fiends, we decided we would rather hop on a camion, a truck, to travel back to the city rather than the bus. Just when it seemed we have missed the time that farm trucks go into town and would need to wait for the last scheduled bus, a loaded camion stopped, some distance in front of us, and we ran to climb on. Once I find my precarious balance on the back fender, holding on tight to a wooden bar against the bumps and curves of the road, I counted 12 adults including the two of us, and 10 kids, all tiny, age five or less. All are looking at us with great curiosity. Beneath the people are stacked sacks of produce, mostly 100 kilo bags of patatoes and corn.
The heavy truck bumps and grinds slowly from the village of Quinua towards the city of Ayacucho, along the central Andes valleys full of cactus, dry volcanic rock, haphazardly preserved ruins of the Wari culture, and riverbed oases. The mini buses would have taken about an hour; the camion took about two and a half. The people on the bus came from a further village, they would travel about six hours to reach the city to sell their produce. At first it seemed a miracle that non of the young kids would fall off the truck; though tiny and unruly, it was soon obvious that they've developed the instincts to hold on just so.
In front of us are a beautiful young mother with her kids, I think about four. She's nursing the youngest and with neighbors' help keeping an eye on the other three. One of the boys is very playful and kept bothering his young sister. There's a young father, unrelated, and his only daughter, a beautiful child, whose name is Jenny, pronounced "yenny" in Spanish. As the wind gets colder in the late afternoon, the father holds little Jenny close, inside his thin jacket, and once in a while whispers: "Tranquilo, Jenny... Tranquilo, mi hija."
The dryness of the landscape we're passing by contrasts with the young mother's breasts, the wrinkles that deepen around her eyes as she squints against the wind, the wiggling baby, the laughter and screams of the other kids. There's a warmth in the eyes of these adults and kids as they look at us, different than I've encountered in the cities, and I felt more welcomed into this caravan of life than most other places in the world. We chatted, though not very much, there's something about being open to the elements that makes conversation superfluous. Talks starts up again as some of the people and sacks gets unloaded in villages on the way, and people shift into better positions on the remaining produce. When we finally reach the city, the goodbyes were as warm as any, "hasta luego," "ciao Jenny," as if we'd casually pass by their village any day. I will always remember the families on the back of the camion.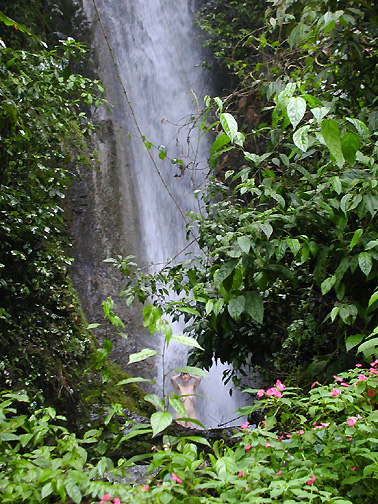 » Click here for more pictures of the paradisical Cloud Forest. «
Emerged from the high jungle, more lush than imaginable at 2,700m above sea level. It was lovely to be inside the green fortress, just felt "right," besides the mosquitos, the jungle is paradise for me. We climbed up and down steep mountain sides on our hands and knees and using ropes and got dirtier than since when I was a tomboy, and climbed up walls of cascades and then stripped naked and bathed in them. To stand in the strength of the waterfall is to feel pure energy go through you.
The day after coming back from the jungle, I'm walking an inch off the ground, because I have so much to give.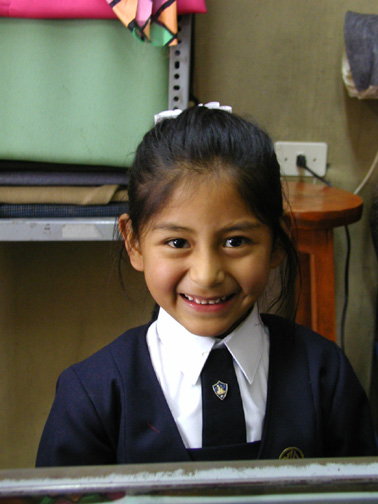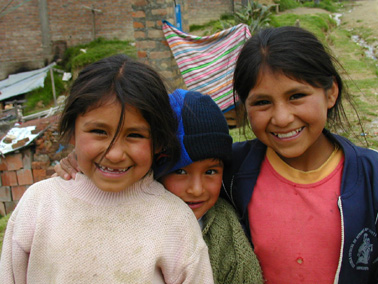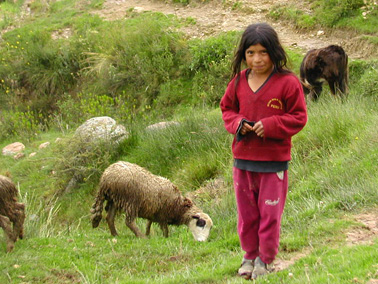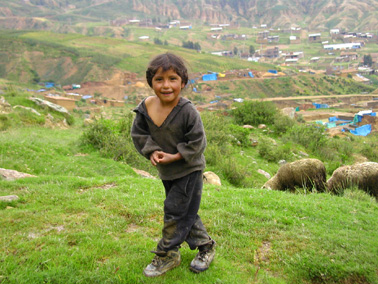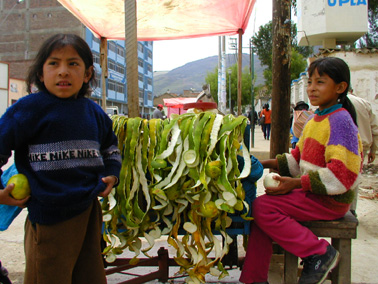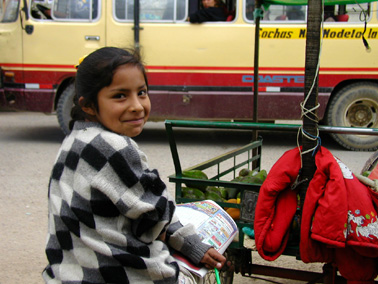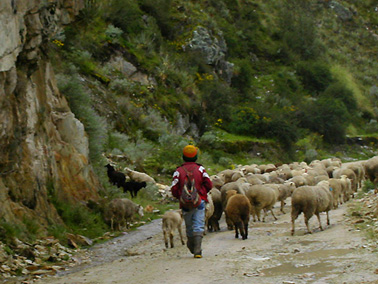 I've forgotten what it's like to see kids working. In the long walk in countryside today, I see all the kids are working: herding cows and sheep, washing, plowing, doing what they can alongside the adults. Then at the fabric store, I bought a piece of red cotton for a sarong just because the ten-year-old and her six-year-old sister are running the store on their own, and they're so adorable I just wanted to please them in some way.
In these places they haven't learned to stick their hand out to the tourists for candy or for money, nor to sale postcards or carry a little shoe polishing stand. They haven't learned to be aggressive, and there's nothing as tender as when the naturally shy ones warm up to you. I wish I can talk to them better... tell them about little kids in China, who also carry a full day's work load before they're ten, and such eager and sweet smiles on their dirty faces.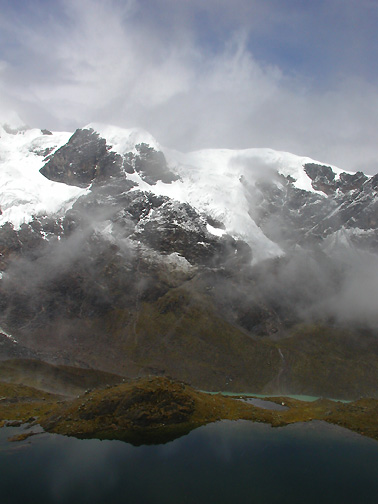 » Click here for more pictures of the mystic Andes. «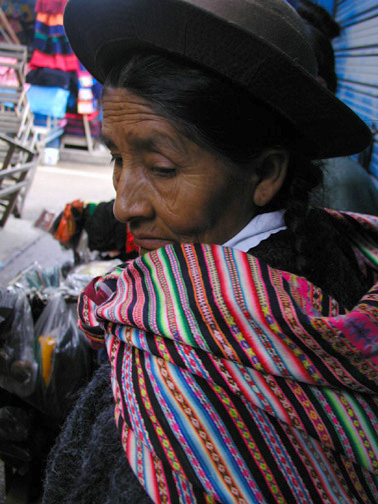 » Click here to see more images from the vibrant Peruvian central Andes «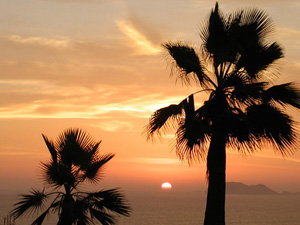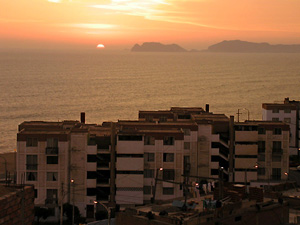 Lima sunset, two views
I'm on a balcony overlooking the Pacific, a lovely sunset going on, the bright red-orange disc kind of sunset, the unblinking going-going-gone kind of sunset. (It was explained to me that nearer the equator the sun goes down much faster, diving straight down into the sea rather than sliding into it at an angle further up north. So true, don't know why it never occured to me before. Enjoy your long sunsets.) My British compatriot of Peru is in his hammock listening to Harry Potter on digital audio, the usual studiousness given up for the day as the magic of Harry Potter drew him in deeper. I am in a calm and happy moment as is usually the mood at sunsets, with a boost also from a few hours of productive work late in the afternoon, writing an equipment grant for the NGO, for which I get to stay in this lovely and privileged San Isidro house.
The organization, Shinai Serjali, does good work, great actually, honest and painstaking with no promise of easy ways out. They work with indigenous peoples in the Peruvian Amazon who've only come into contact with national society in 1984, after which an estimated 40-60% died from introduced respiratory diseases, they've had to relocate, the loggers and petrochemical companies continue to infringe on their rights. They're facing the most important decisions for their future, but concepts such as pollution are entirely abstract to them. That's a trip. Some communities in the surrounding areas choose to stay in voluntary isolation, though they've not necessarily gotten what they wanted. It's like that old joke of someone's about to be rescued from a desert island, but ask for the day's newspaper first, then refusing the lift. It's like bringing children into the world. Serjali's task is to "bring up" the group in record time, so that they can stand up to the bullies and otherwise make something of themselves in this world.
I'm in Arequipa, taking at least one week of intensive spanish and staying with a host family. It's a very cool place... At 2300 mts high they say the sun is as strong and hot as in Africa, which they call "dulce calor." The light is pure and bright, and in the Santa Catalina convent, the main attraction of old city, with the walls painted azul and terracotta, bright red geraniums and silvery green succulents, snow capped peaks of the Sierras visible, it has to be one of the most photogenic places anywhere. Alas there isn't the hardware where I can upload my digital cameras here...
It's so true that time stretches in traveling. The first few days are great and you're a sponge absorbing everything around you. But the flip side... after a week in any place, you become blind to some of what you liked so much in the first place. After a week in Lima the pleasures all but disappeared for me; after a few weeks in Switzerland even the Alps became humdrum. Then you have to either move on or change perspective and learn to see new things, and it's easier to move on... so it's a bit of a curse too.
It's always a little strange to fulfill a goal set so long ago... from an idea planted who knows how in one's childhood, and seemed impossible to reach for all that time. And now I've done it... I've seen the Nazca lines. It doesn't change my life... but I've thoroughly enjoyed the experience. The four person plane, including pilot, was the smallest I've been on and have been slightly nervous about since yesterday, but the ride was perfectly calm and I did not feel queasy. We were one of the earliest planes to be off in the morning, and the primodial desert landscape and the mysterious lines were ours alone. The land is so impossibly barren, it's hard to imgine any civilized settlement, and to hear in the BBC video later that the lines were a prayer, or other means for water, it's incredible and sadly futile. (Then again, our greatest monuments can all said to be monuments to futile goals, be they the ideals of victory, peace, equality, or abundance.) For any purpose... the lines are beautiful in themselves, and on the flight back, the poor farmlands closer to Nazca seemed positively lush in contrast. The earth will always be our greatest canvas.
Though chifas day in and day out does not lead anywhere, she does not see going back. This must be more of a desert for her than for me. I know that she and I are in different places in the world, I know of her envy. I felt people are trapped in the ways of their families. Her diminutive figure, the tiny face with long straight hair that sticks close to it, belie the size of her desires for a bright future, that neither the past nor the present could lead her to.
The lunch was on the expensive side, though I only asked for rice and stir-fried cabbage. I paid it with a feeling of sheepishness as if I was paying for the stories.